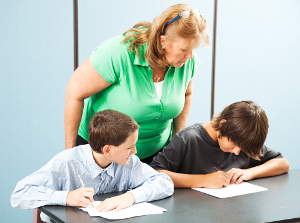 Restored Hope Academy is designed exclusively for elementary children with learning disabilities. The school is housed within our main campus. Our academy is designed to stay small to provide individualized instruction to a handful of children who will benefit from special techniques and training. We offer one-on-one assistance to children who need help learning through challenges posed by disabilities – whether it pertains to the classroom or everyday life. Our teachers work with a variety of cases. Students benefit from instruction by those who have undergone extensive training in learning disabilities and have a passion for seeing students succeed and flourish in life. We offer personalized attention and caring, trained educators.
To Apply for the Academy
The Restored Hope Academy is designed to stay small in order to provide individualized, one-on-one attention. We have only a handful of students at a time, and our capacity is 35 children. In order to attend Restored Hope Academy, children must undergo initial testing. At the time of testing we will determine if any of our other programs will meet their needs, or if they are a good candidate for the Restored Hope Academy.
Stop guessing. Start testing. Contact Restored Hope for learning disabilities assistance at (816) 254-9785.